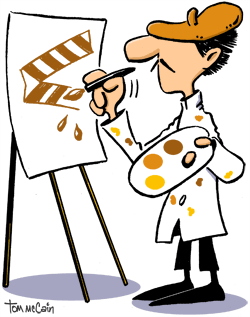 Everything today is about adding value, and that's the number one reason to use video marketing. It plugs interaction — including face-to-face interaction — into your website, print promotions and events. You get a unique opportunity to blend your company's personality and message into either an online or offline experience.
Still not sold? Here are 10 additional reasons to use video marketing:
Raises your website's search engine results — web crawlers recognize video.
Improves the potential for your message to go viral through the social networks.
Increases the average amount of time visitors spend at your site.
Makes you stand out as an expert since not as many sites use video.
Offers opportunities to provide a tremendously rich offline media experience — stuff a disk with MP3s, video, personal messages, mobile apps, high-res product photos, web links and free downloads.
Augments and supports your existing online strategy when used with direct mail, providing a seamless physical/digital experience that encourages double-digit response rates according to research studies.
Appeals to people who like to see something before they read it.
Provides an opportunity to educate customers about a product or service.
Puts a face on your company and builds your brand.
Engages your customers' senses, triggering emotional reactions that influence buying decisions in ways that static content can't.
Professional vs. Homegrown Video.
The nice thing about digital video is that it doesn't always have to be high end and expensive. The key is to know when you can use your flip camera and when you need a professional team.
And really, the rules are pretty simple:
Homegrown video is fine for website demos, new product intros, how-to presentations, brief commentaries and the like. For example, interLinkONE, an integrated marketing solutions provider, has a media page that features short videos covering topics ranging from using QR Codes in a printed catalog to live reports from their booth at a trade show. Homegrown solutions work great for these purposes where immediacy is important and viewers don't expect premium content with high-end production.
Professional video is a must when the production represents the official, animated face of your brand. That's when you need a quality script, title slides, smooth transitions, excellent lighting and sound, multiple shooting perspectives and top-notch editing. It can also be a good investment when the video will have multiple purposes — website, direct mail, trade shows—and a longer life span. You also need to consider professional video whenever your audience is more sophisticated and has high expectations.
What's the Right Length?
Everyone wants to know how long is too long. And the general consensus for the appropriate length of online video is one to four minutes. Attention spans seem to grow shorter everyday, especially online.
But purpose means a lot, too. So a one- or two-minute product intro is not the same as a four- to six-minute in-depth case study.
You can also cut longer videos into segments that allow people to access only the parts that interest them. In general, you need to think of the video as an overview from which you can then link buyers to more detailed information in print or electronic form.
Regardless of length, relevance dictates how long people will view the video. Provide information that people want to know, and they're far more likely to stay for the duration. When you're trying to keep their attention, it pays to be tactical in selecting content and forget the broad-brush stuff.
Video Media Types.
Video is definitely an evolving medium, and different media types are emerging including video:
Product demos
Product overviews
Testimonials
News releases
Case studies
White papers
Corporate presentations
Commercials
Trade show and event previews
"How-to" demos
Blog posts
As these media types mature, more specific standards for length and other factors will emerge as well. In the meantime, don't be afraid to experiment. Viewership will tell you quickly enough what's working and what's not.
By Larry Bauer
Want Expert Advice?
MondoVox Creative Group can help you create online video, DVDs and CDs that result in more customer interaction and sales. For more information, email Julia Moran Martz.
You can connect with Julia Moran Martz on LinkedIn. Or follow her on Twitter.