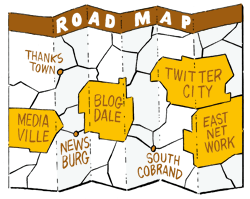 All marketing programs require an investment of money as well as time. Referral marketing programs often require more of the latter. Add to that tactics designed to keep you in touch with clients, associates and prospects and you could be looking for an eight-day week. So let's choose wisely. Below are some handy tools to consider working into your everyday processes and some that will require more ongoing effort on your part. No matter what tools you use, keep these three thoughts in mind:
Stay in front of your clients, associates and prospects.
Stay relevant.
And above all, make sure your clients are happy, otherwise—no referrals.
Printed Cards
In this age of e-everything, you can stand out from the competition by using printed cards. The trick is to just be speedy about it. Afterall, if you can get it there within 24 hours, you've beaten most emailed follow ups.
In addition to SendOutCards®, which we mentioned in the previous article as a quick and inexpensive tool, you should also keep corporate thank you cards handy and use them liberally after initial meetings, final project deliverables, and of course, in response to referrals. If you're meeting a client or prospect out of town, take some cards with you, write a quick thank you and pop them in the mail before your plane takes off. If you wait until you get back to the office, you're less likely to remember the little things that made the meeting great and worthy of a thank you.
Personalized letters are very effective too. But added levels of personalization can definitely improve your outcome. According to a study reported by Marketing Profs in which researchers sent a survey to busy doctors with three different cover letters, each produced a dramatically different result:
A printed letter generated a response rate of 36 percent.
A printed letter with a handwritten message on it raised response by one third to 48%.
A printed letter with a handwritten message on a Post-it® note increased the response rate to 75%.
Corporate Blogs
How frequently do you update your corporate website with timely and relevant information? Thought so. Your website is necessary, of course, but may not be the most powerful tool you can use to increase your online voice. Having an online voice that's frequent and relevant allows your clients more options to refer folks to you.
And not only that, group blogs expand your network exponentially. Invite guest bloggers to post on your blog. Of course, their followers will follow them and in turn, discover you. Likewise, offer to write guest blog posts for your associates' blogs. Just be sure y'all are linking back to each other's blogs and websites.
Social Media
Microblogging tools like Twitter have become the defacto way many folks maintain conversation with friends and associates as well as meet new ones. It's about being part of the overall conversation and that conversation is not always about personal interests. Many folks also join Twitter Groups to meet others with similar interests. For instance, did you know there is a business Twitter Group for every city in the US? So get out there, create your Twitter persona, and look for a Twitter Group with similar interests. Or create a Twitter Group for your specific niche.
And don't forget LinkedIn. It has a built-in tool that allows others to recommend you.
Monthly Newsletters
Whether printed or emailed, monthly newsletters are always a great way to stay in touch, so long as you follow these simple tips:
Don't skimp on quality writing and design.
Don't skimp on valuable content.
Be relevant.
Your newsletter should be targeted to both customers and prospects—especially prospects whom you haven't met and aren't necessarily on your mail list.
Create an editorial plan but be flexible so you can take advantage of timely topics.
Include a Send to a Colleague link.
Also keep in mind emarketing fatigue is increasing. In order to keep readership up and expanding, you've got to maintain a high degree of interest.
Co-Branded Opportunities
In a carefully planned co-branded situation, both partners share the resource burden and expand their clients and prospects reach. Keep an eye out for marketing and promotional opportunities that would allow you and your partners to benefit. Just make sure you're partnering with a company with the same or better level of customer service and quality as your own.
Here are a few ideas to get you started:
Co-Branded Blogs: You could always take a leadership role in developing a co-branded and topical blog that allows contributions from one or several of your best associates. This is different than a corporate blog.
Co-Branded Monthly Newsletters: Of course a newsletter can be created and implemented solely for just your company, and it is a very powerful way to stay in touch with clients, prospects and associates.
Co-Branded Webinars: Conducting co-branded webinars of interest to your contacts and your associates' contacts provides a mechanism for pooling all the prospects.
You can also maintain your own corporate blog, newsletter and webinars. Co-branding may or may not work for you depending on your business. If you need help determining what tools would be most helpful in your niche, just give us a call.
— by Julia Moran Martz