We already knew our MailVox email campaign software was better than the competing software but we didn't stop there. I'm thrilled to announce that this week, we've incorporated a new report that shows exactly which email clients your readers are using to view your email campaigns. And not only that, our team has been tracking this information for campaigns sent over the last 6 months, just waiting for this day when we can offer you this additional report.
That 'other' big competitor (whom shall remain nameless) cannot offer this. They also don't have the ability to test your emails in various email applications and show you screen shots of each. Of course, we do both.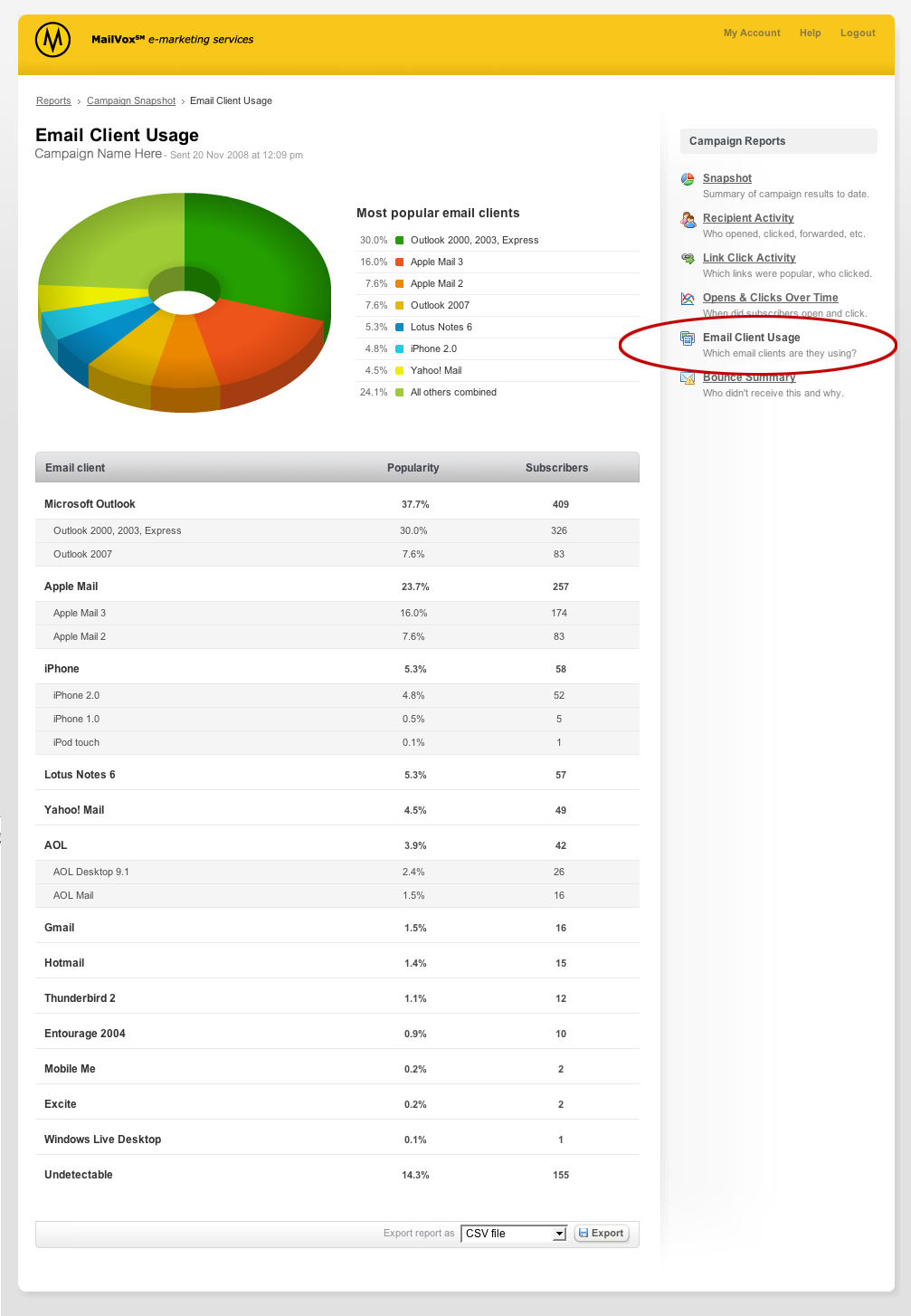 (click this image to view a sample report)
This latest report mitigates one of the primary frustrations of designing email campaigns: consistency across email applications. You'll be able to see exactly which email clients to test for your campaigns. You'll know if Lotus Notes really matters to the folks on your subscriber list and whether or not you need to have us spend more time finessing your emails for those audiences. You'll know exactly how many people used their iPhone to read your email. And not only that, the report splits the results by version too. So you can see whether or not you really need to worry about Outlook 2007 or 2003.
Until now, this was all guesswork. Many folks assumed that B2C subscribers used Hotmail/Gmail/Yahoo while B2B used Outlook/Notes. You don't have to assume anymore. Just reviewing your online report allows your emails to be designed and programmed to your specific audience. No extra time spent on email applications that aren't actually used.
Yes, this can save design and development time for your email projects. Feel free to contact me for a free demo or if you're a client, just log on and view your new reports.
Have a great weekend!
Julia