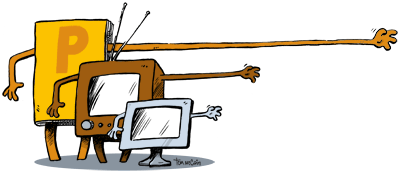 Don't get me wrong. I use web-based media everyday. Some of it I enjoy. Some of it I find highly useful in both my business and personal life. I also advise my customers to use it as part of their media plan, and several of them are printers. So this is not a rant against non-traditional media by any means.
At the same time, many companies seem to be over compensating in their move toward electronic media. Granted it has some nice features like being relatively inexpensive, very fast and easily tracked. Everyone loves to walk into their supervisor's office and point to clickthroughs, landing page downloads and all the other neat things you learn from an online campaign.
But keep in mind that a Parks Associates study reported by MarketingProfs found that 21 percent of Americans had never visited a website, sent an email or used a search engine. And if you are an international company, more than 40 percent of the populations of highly developed countries like France, Belgium and Austria never use the Internet. Even with high connectivity rates in nations like Japan and Taiwan, the numbers escalate to an incredible 85 percent in Asia.
Using Online Media Exclusively Can Shortchange Results
Online media is not necessarily a "be all, end all" solution for reasons that go beyond connectivity? Even among people who do use the Internet, print may actually perform better than online alternatives for certain objectives? Well, let's ease into this for those who are diehard online media advocates.
First of all, there is a recent Magazine Publishers of America (MPA) study indicating that the combination of print magazine advertising with online advertising at the publisher's website is the best performing media blend available. This supports a number of previous studies showing that marketing campaigns having the greatest impact on the purchasing decision use a synergistic media combination.
Data Support Print
In fact, data indicate that throughout the purchase funnel, magazines are the most consistent performers versus other media studied. Across an aggregate of 20 studies, magazines produced a positive result in more stages of the purchase funnel, and in more ad campaigns, than TV or online. Check out these findings.
---
Aggregate Trends Across the Purchase Funnel
---
| | Total Brand Awareness | Brand Familiarity | Brand Imagery | Purchase Intent |
| --- | --- | --- | --- | --- |
| Magazines | 78% | 93% | 82% | 80% |
| TV | 69% | 69% | 68% | 57% |
| Online | 56% | 67% | 57% | 26% |
Percentage of 20 Studies in Which Overall Purchase Metrics Were Positively Influenced by Medium
Source: Magazine Publishers of America study conducted by Marketing Evolution
Particularly noteworthy was that across the five advertising categories studied, magazines ranked first in influencing purchase intent in all but electronics where it came in a close second to television.
Purchase Intent Lift by Category
| | Magazines | Television | Online |
| --- | --- | --- | --- |
| Automotive | +5% | +3% | +2% |
| Entertainment | +6% | +1% | +4% |
| Electronics | +3% | +4% | 0% |
| General | +4% | +1% | +1% |
| Pharmaceuticals | +3% | +2% | 0% |
Source: Magazine Publishers of America study conducted by Marketing Evolution
Key findings from the research confirm that:
For brand familiarity and purchase intent, magazines generate a superior cost per impact (CPI) than either TV or online.
For brand awareness TV leads in cost efficiency, and the efficiency of magazines is a close second to that of TV.
Magazines most consistently generated a favorable ROI throughout the purchase funnel, followed by TV.
While each category that Marketing Evolution examined (auto, entertainment, electronics, and pharmaceuticals) showed a unique profile, the overall pattern held across the individual categories.
What This Means to You
Unless you've completely put blinders on to anything but online media, this should trigger a call to action. If you believe in the value of a media mix and have a true commitment to maximizing ROI, then it's time to take a hard look at your plan. Chances are you'll find print advertising under-represented, to say nothing of under-appreciated. The potential ROI gains you'll receive from adding print advertising are very likely greater than any you'll receive from repeating ads in other media.
By Larry Bauer
Want Expert Advice?
MondoVox Creative Group can help you develop a winning media strategy as well as create winning ad campaigns from concept through creative execution. For more information, email Julia Moran Martz.
You can connect with Julia Moran Martz on LinkedIn. Or follow her on Twitter.