Let's cut to the chase. There are books, blogs and countless articles written about building referrals. But there are three major reasons programs don't succeed:
To get referrals, you need to ask for them. As one blogger put it, most people would rather invite a neighbor to attend church with them than ask for a referral.
Those who ask often don't see the customer's perspective. There's a lot of benefit in a referral for you, but why should the customer put his or her neck on the line?
Companies don't make it easy enough for their customers to recommend them.
Instead of benefiting both parties, the act of referring often becomes too one-sided and discourages activity. Here's how to develop a better referral strategy.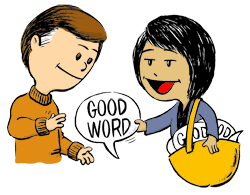 Soften Up the "Ask"
The first thing you can do to make asking easier—or perhaps avoid having to ask at all—is providing great work. Look for better ways to serve your customers and be energetic and enthusiastic in delivering your service. People respond to excellence as well as to companies that hustle and try harder. If you're a lesser-known up-and-comer, getting referrals might be even easier. Lots of people like to support the hard working, high-performing underdog.
Seth Godin, the author and speaker who popularized the topic of "permission marketing," suggests that people will tend to give you referrals if you give a lot of referrals yourself. The key, though, is to genuinely want to help someone else—not just to get referrals back. You should only play matchmaker for the right reasons. But when you do give good referrals on a regular basis, the world tends to respond positively.
Finally, be sure to keep in touch with people who are important to you. According to Godin, every 30 days is about the right frequency if you're serious about building referrals. Friendships and professional associations can easily drift into the background of our busy lives. It's well worth your time to:
Send a card or letter.
Call them.
Send an email.
Stop by their office.
Put them on your holiday and birthday card list.
Do business with them.
Connect on LinkedIn or other business social media.
Keep your relationships strong. Remain on one another's radar. You'll benefit from more referrals.
Understanding the Customer's Perspective
There's lots of risk for the person doing the referring. You could screw up or otherwise disappoint. Maybe it isn't even your fault, but the result is the same for the person making the referral. According to Godin, "Understand that low-risk referrals happen more often than high-risk ones, and either figure out a way to become a low-risk referral or embrace the fact that you have to be truly amazing in order to earn one."
Just don't make the mistake of thinking you can buy referrals. Offering rewards for referrals often doesn't work because you're asking the person to put his or her credibility on the line. Consumer companies in particular often try to skirt the issue by offering both the referrer and the prospect discounts. This might be better (or at least more upfront) than other reward programs, but enter this territory with extreme caution.
Making it Easy to Recommend You
The easiest and most effective way to get people to refer you is to give them something of real value to offer their friends and business colleagues. For example, a young chiropractor we know gives his satisfied patients a limited number of "referral only" coupons that they can give to their friends for an initial consultation and complete examination, including x-rays, for less than $20.
Combined with a referral from someone who benefited from the doctor's services, it's a great incentive for someone who is suffering from back or neck pain. Most importantly, it makes the referral even easier than saying, "You should see my chiropractor."
One of the keys is to not make the offer something that is available to anyone. You provide it only to your best customers to use for referrals. If it's an offer they can get anywhere, you lose the special value that helps make the referral easier.
Want Expert Advice?
MondoVox Creative Group can help you develop a winning referral strategy as well as deliver creative execution for any program components. For more information, email Julia Moran Martz.
— by Larry Bauer