The power of the Internet never ceases to amaze me. Ditto with the size of our planet. One of our clients' brands has been hitting the blogosphere with a vengeance the past few months, all without a marketing budget. I attribute the notoriety to quirky and good design, a very unique product concept, and clever writing, not to mention that our client obviously knew and understood the target demographic quite well.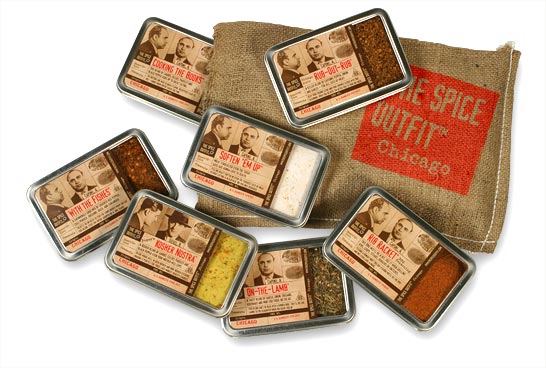 A while back we created The Spice Outfit® brand of spice blends for CCC Brands of Chicago. Tom, CCC Brands president, approached us with an idea for a series of specialty blends under a Chicago Mob-related theme. He'd already been doing some serious research on the subject and had his target markets and sales channels all mapped out.
The resulting product packaging won an American Package Design Award and is garnering attention in no less than nine different countries, blog after blog. The Dieline and Lovely Package likely being the most popular. Packaging Digest Magazine has also covered the story of The Spice Outfit.
Who knew Mob-related packaging could be such a huge hit? This project was honestly one of the most fun we've worked on since starting MondoVox in 2000.
Cheers!
Julia